My Blog
Posts for tag: pediatric dentistry
By Sandy Spring Dental Care
January 08, 2019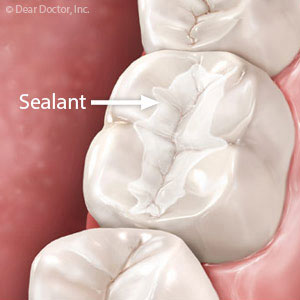 A baby's teeth begin coming in just a few months after birth—first one or two in the front, and then gradually the rest of them over the next couple of years. We often refer to these primary teeth as deciduous—just like trees of the same description that shed their leaves, a child's primary teeth will all be gone by around puberty.
It's easy to think of them as "minor league," while permanent teeth are the real superstars. But although they don't last long, primary teeth play a big role in a person's dental health well into their adult years.
Primary teeth serve two needs for a child: enabling them to eat, speak and smile in the present; but more importantly, helping to guide the developing permanent teeth to erupt properly in the future. Without them, permanent teeth can come in misaligned, affecting dental function and appearance and increasing future treatment costs.
That's why we consider protecting primary teeth from decay a necessity for the sake of future dental health. Decay poses a real threat for children, especially an aggressive form known as early childhood caries (ECC). ECC can quickly decimate primary teeth because of their thinner enamel.
There are ways you can help reduce the chances of ECC in your child's teeth. Don't allow them to drink throughout the day or to go to sleep at night with a bottle or "Sippy" cup filled with milk, formula, or even juice. These liquids can contain sugars and acids that erode enamel and accelerate decay. You should also avoid sharing eating utensils with a baby or even kissing them on the mouth to avoid the transfer of disease-causing bacteria.
And even before teeth appear, start cleaning their gums with a clean, wet cloth right after feeding. After teeth appear, begin brushing and flossing to reduce plaque, the main trigger for tooth decay. And you should also begin regular dental visits no later than their first birthday. Besides teeth cleanings and checkups for decay, your dentist has a number of measures like sealants or topical fluoride to protect at-risk teeth from disease.
Helping primary teeth survive to their full lifespan is an important goal in pediatric dentistry. It's the best strategy for having healthy permanent teeth and a bright dental health future.
If you would like more information on tooth decay in children, please contact us or schedule an appointment for a consultation. You can also learn more about this topic by reading the Dear Doctor magazine article "Do Babies Get Tooth Decay?"
By Sandy Spring Dental Care
August 21, 2018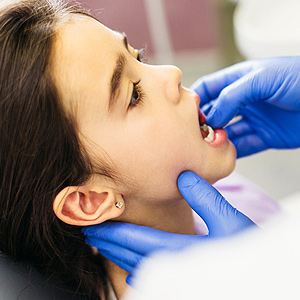 Often as children grow older, their participation in sports or similar activities increases. While generally encouraged, this greater activity does increase injury risk, especially to the mouth.
In fact, the late childhood to early adulthood demographic is the most prone portion of the population to incur dental injuries. To complicate matters, their dental development is often incomplete, posing a number of treatment obstacles for an injured tooth.
For example, the primary means for preserving an injured adult tooth is a root canal treatment: damaged or diseased tissue within the pulp, the tooth's innermost layer, is removed and the empty chamber and root canals filled and sealed to prevent infection. But while a fully matured tooth can function without the nerves and blood vessels of the pulp, a developing tooth needs these tissues for continued tooth formation. Otherwise, tooth development can stall and cause problems later on.
The most common solution for younger teeth is to remove any damaged tooth structure without disturbing the pulp if at all possible followed by a filling. That's contingent, though, on whether we find the pulp unexposed or undamaged—if it is, we'll try to remove only damaged or diseased pulp tissue and leave as much healthy tissue intact as possible. To aid with healing and tissue re-growth, we may also place medicinal stimulators between the pulp and the filling.
Jaw development may also pose a challenge if the injured tooth is too far gone and must be removed. Our best choice is to replace it with a dental implant; but if we install the implant while the jaw is still growing, it may eventually appear out of place with the rest of the teeth. It's best to postpone an implant until full jaw maturity in early adulthood.
In the meantime we could provide a temporary solution like a removable partial denture or a modified bonded bridge that won't permanently alter nearby teeth. These methods can adequately restore the function and appearance of missing teeth until the jaw is mature enough for an implant.
While injuries with young permanent teeth do pose extra challenges, we have effective ways to address them. With the right approach, the outcome can be just as successful as with a mature tooth.
If you would like more information on dental care in the formative years, please contact us or schedule an appointment for a consultation. You can also learn more about this topic by reading the Dear Doctor magazine article "Saving New Permanent Teeth after Injury."
By Sandy Spring Dental Care
October 13, 2017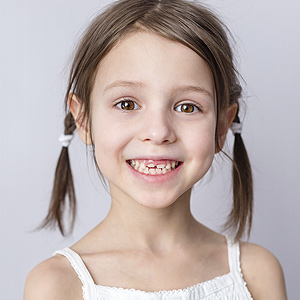 At no other time in a person's life will their teeth and mouth change as rapidly as it will between infancy and adolescence. In this short span an entire set of teeth will emerge and then gradually disappear as a second permanent set takes its place.
While the process may seem chaotic, there is a natural order to it. Knowing what to expect will help ease any undue concerns you may have about your child's experience.
The first primary teeth begin to appear (erupt) in sequence depending on their type. The first are usually the lower central incisors in the very front that erupt around 6-10 months, followed then by the rest of the incisors, first molars and canines (the "eye" teeth). The last to erupt are the primary second molars in the very back of the mouth just before age 3. A similar sequence occurs when they're lost — the central incisors loosen and fall out around 6-7 years; the second molars are the last to go at 10-12 years.
A little "chaos" is normal — but only a little. Because of the tremendous changes in the mouth, primary teeth may appear to be going in every direction with noticeable spaces between front teeth. While this is usually not a great concern, it's still possible future malocclusions (bad bites) may be developing. To monitor this effectively you should begin regular checkups around the child's first birthday — our trained professional eye can determine if an issue has arisen that should be treated.
Protecting primary teeth from tooth decay is another high priority. There's a temptation to discount the damage decay may do to these teeth because "they're going to be lost anyway." But besides their functional role, primary teeth also help guide the developing permanent teeth to erupt in the right position. Losing a primary tooth prematurely might then cause the permanent one to come in misaligned. Preventing tooth decay with daily oral hygiene and regular office visits and cleanings (with possible sealant protection) is a priority. And should decay occur, it's equally important to preserve the tooth for as long as possible for the sake of the succeeding tooth.
Your child's rapid dental development is part of their journey into adulthood. Keeping a watchful eye on the process and practicing good dental care will ensure this part of the journey is uneventful.
If you would like more information on the process of dental development in children, please contact us or schedule an appointment for a consultation. You can also learn more about this topic by reading the Dear Doctor magazine article "Dentistry & Oral Health for Children."